Shipping charges are based on the total candy order per location.

We do not ship internationally. We only ship to the 48 contiguous states.

Orders are shipped via UPS. UPS does not deliver to post office boxes.

Most orders are shipped within 1 to 2 business days of receipt.

Orders placed on Friday, Saturday or Sunday will ship on the following Monday.

Our products are highly perishable. During warm weather months or if a product is shipped to a warm destination, temperature 75 degrees Fahrenheit and higher, we strongly recommend that you select an expedited shipping method.

Additionally ice packs may be necessary in the shipment. Each ice pack costs an additional $5.00.

The Alps Sweet Shop is not responsible for melted product.

The Alps Sweet Shop is not responsible for an incorrect shipping address. The customer will be invoiced for packages returned to us. Additional shipping fees will be charged to send out a package a second time.

Call (888) 442-2577 if you have more specific questions regarding order shipment.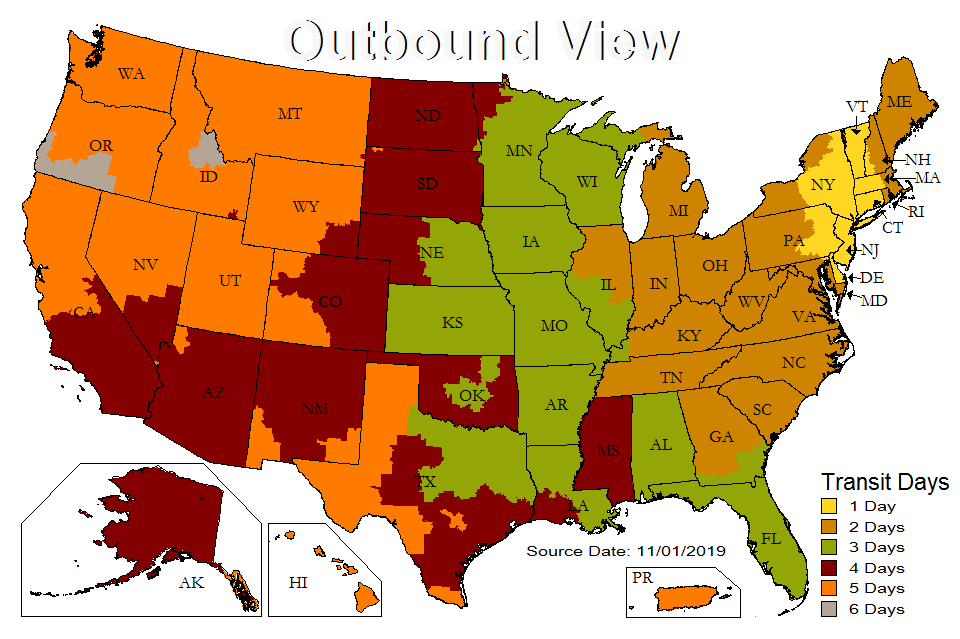 The above map from UPS indicates the approximate number of business days for a shipment from our facility.